A couple of years back, I made this skirt - American Weekly 3889. I made it on the bias in green wool with hand finished hem and full on pleating in the back. It was nice but HEAVY and as I wore it, it got larger and larger in the waist! I swore if I ever again was going to make the skirt WITHOUT the massive butt-pleats and a wee bit smaller in the waist.
Since I've joined the Thrifty365 thingummy and the Sewing Through the Decades sewalong, I figured this skirt would be an admirable way to accomplish two things.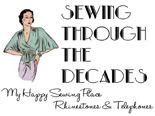 1. Remake my nemesis skirt
2. Use up some leftover fabric and notions from my stash to make it Thrifty365
3. Use some skillz that I've acquired since the last time I attempted this
I had some real "fun" trying to get the skirt body cut from the just over a yard of fabric I'd chosen. The fabric originally had made a pair of denim slacks for my nana for Christmas and was slated for a skirt for me. I came across it while I was clearing the mending from my sewing table. So off I went. I shortened the length by about 2.5" because Ballroom Skirt 1.0 was WAY long on my shorty self. 5'2" is short no matter how you slice it, and this skirt was almost ankle length on me while on the illustration, it was a mid-calf number. Gotta love it!
This went together fairly easily. Actually, it went together MUCH more easily than it's predecessor. I'm not sure if it's my skill level that has increased or the fabric was a better choice, or what. I did have to make an FGA (Full Gut Adjustment) to account for my rotund lower abdominal area, but that too... Piece of cake.
The pattern has 4 pieces: skirt body (cut two), pockets & facings (cut two each) and waistband. It uses one button and one zipper.
I finished one partial spool of thread, 2 partial bobbins, 1 leftover button and a spare zipper. I didn't purchase ANYTHING new to make this. So, I guess it gets this:

In my previous attempt, I didn't use the pockets and I used the full on pleating in the back. You could call it a mullet skirt for all the business in the front and party in the back that it had going on. This time I eliminated quite a bit of the pleating, but I still had enough fabric in the waist for some smaller, gentler pleats. Which I forgot to photograph. I'm not totally thrilled with my zipper choice, because it's a LIGHT blue that sort of sticks out since it's not an invisible zipper. But it's what I had.
I used brown thread for the pocket embellishment and the hem.
Gertie's skirt hem advice really worked! Paraphrasing, you iron up a tiny bit, sew it down, iron it up again and sew it down again and you get a narrow skirt hem that eases the fullness perfectly. I was skeptical, but it DID work! See?